Prince Castillan is a minor character of the series of the Battle Day/Exchange Student Zero Saga.
Personality
Prince Castillan is as described by the Cartoon Network website, "deeply troubled and self-obsessed". He acts like an gentleman around women.
Appearance
He has pale skin, white hair, and green eyes. The Cartoon Network website describes his look similar to a Bishonen character. His clothing mainly focuses with a Victorian theme and consists of a cream long coat with some gold details, a purple vest with a cravat, and a pair of white short pants. For his footwear, he wears a pair of long white socks and a pair of purple buckled shoes.
Gallery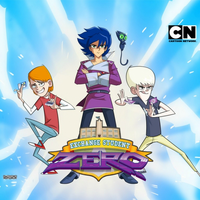 Click here to view the gallery.