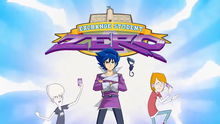 The Opening Titles is the theme song of Exchange Student Zero TV series. It was composed by Mark and Bob Mothersbaugh from Devo and it was introduced on Cartoon Network on September 26, 2015 with most worldwide airings of the show.
Entity Deck
Lyrics
The deck was purchased for a dollar ninety-five,
But John and Max think's a brutal life.
They summon Hiro, Prince of Karuta, who is first interdimensional...
Exchange Student Zero!

Now life at school will never be the same.
Ever since the anime, Hiro came!
Protector of Peace as they were made!
He's Hiro, Exchange Student Zero!
Trivia
Gallery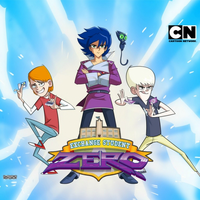 Click here to view the gallery.
Video
Ad blocker interference detected!
Wikia is a free-to-use site that makes money from advertising. We have a modified experience for viewers using ad blockers

Wikia is not accessible if you've made further modifications. Remove the custom ad blocker rule(s) and the page will load as expected.