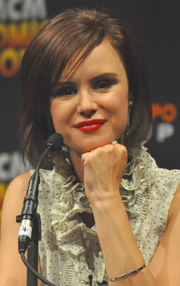 Keegan Connor Tracy (born December 3, 1971) is a Canadian actress known for her roles as the ill-fated Kat Jennings in Final Destination 2 (2003), the Blue Fairy in ABC's Once Upon a Time, and Miss Watson in Bates Motel.
Other work includes roles on Beggars and Choosers, Stargate SG-1, Jake 2.0, The 4400, Psych, Battlestar Galactica, Supernatural, White Noise and Descendants.
Ad blocker interference detected!
Wikia is a free-to-use site that makes money from advertising. We have a modified experience for viewers using ad blockers

Wikia is not accessible if you've made further modifications. Remove the custom ad blocker rule(s) and the page will load as expected.