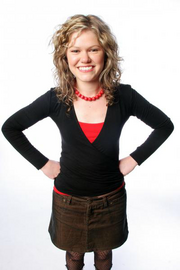 Kate McLennan is an Australian comedienne, actress, podcaster, voice artist and writer. She is best known for her work on television programs such as The Mansion, Let Loose Live and Live From Planet Earth; albeit for their short lifespans.
As a stand-up comedienne, McLennan has also received nominations for the Barry Award at the Melbourne International Comedy Festival and has performed internationally at the Edinburgh Fringe Festival.
As an actress, McLennan has appeared on shows such as Stingers, Offspring, Studio A, MDA and Dogstar. She has also performed both as a solo performer and as part of an ensemble in theatre, including the one-woman play Dead River, the musical Beaconsfield and I Coulda Been a Sailor. She starred in the web series Bleak, with her mother played by Denise Scott.
Credits
Ad blocker interference detected!
Wikia is a free-to-use site that makes money from advertising. We have a modified experience for viewers using ad blockers

Wikia is not accessible if you've made further modifications. Remove the custom ad blocker rule(s) and the page will load as expected.