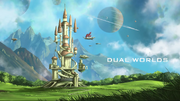 | | |
| --- | --- |
| | This article is a stub. You can help Exchange Student Zero Wiki by expanding it. |
The Karuta Realm (or officially known as the Kingdom of Karuta and simplified as Karuta) is the well known realm of Battle Day Zero and a recurring setting for the series of Exchange Student Zero.
Government
Karuta is controlled by its king as an absolute monarch, under the system of imperial autocracy.
Foreign relations
Karuta was one of the major kingdoms who participated during the war for power of Battle Day Zero that ended with a truce. It maintains its alliance with the Canillian Principality and is constantly at war with other kingdoms, most notably the Kingdom of Blackyard.
Trivia
The realm of Karuta shares the same name as the Japanese competitive card game, Karuta.
Ad blocker interference detected!
Wikia is a free-to-use site that makes money from advertising. We have a modified experience for viewers using ad blockers

Wikia is not accessible if you've made further modifications. Remove the custom ad blocker rule(s) and the page will load as expected.