"
You should see me in cosplay! I wear a brown cardigan and jeans.
"

Happy Peach Flower
Happy Peach Flower is a minor entity of both the movie and the series of the Battle Day/Exchange Student Zero Saga.
Personality
Happy Peach Flower can be described as crazy, hyperactive, over-possessive, and kind of a spoiled brat.
Appearance
Happy Peach Flower has an appearance akin to a stereotypical anime magical girl. She has yellow pigtails and has peaches for hairbands. She also wears a peach colored dress that has a ribbon and peaches for sleeves. She also wears a pair of peach stockings with white stripes and a pair of white boots.
Cartoon Network Website Description
"A wide-eyed anime girl and otaku fantasy, she is crazy character who's actually a lot nicer than she first appears, but, well, crazy none the less."
Relationships
Max Cameron
In the movie, she was Max's girlfriend and they were going to get married soon.
In the series, she and along with one of her friends of Totally Hot have a crush on him as a glorious gladiator. She even got his autograph.
Gallery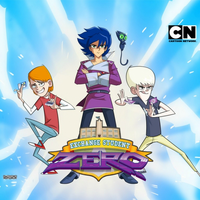 Click here to view the gallery.