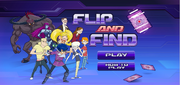 Flip and Find is a game on Cartoon Network's website. It is a memory game where you summon awesome characters by pairing identical cards before your time runs out.
How to Play
Clear the board fast before you run out of time!
Any extra time left from th previous round will be added to the next round, so be fast to gain extra time!
Clear all cards on the board by pairing wo cards of the same character. The more cards you pair, the more points you get!
Entity Deck