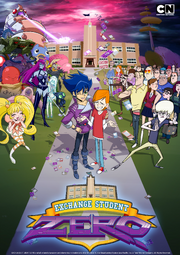 | | |
| --- | --- |
| | This article is a stub. You can help Exchange Student Zero Wiki by expanding it. |
Exchange Student Zero (2015) is a TV series based on the film was announced as the first Cartoon Network show produced in Australia,[1] where the two original creators joins Patrick Crawley. It premiered in the Asia-Pacific region on September 26, 2015,[2][3] and finally the setting was changed from Perth, Australia to an U.S. town called South Port.
Plot
The story of John Stitt and Max Cameron, two boys fanatical for the card game "Battle Day Zero," based on an alternate anime world. One day the combination of a wild storm and a mysterious booster pack suddenly means they can bring Hiro, one of the game's characters into their world. Excited but worried their secret will be discovered, the boys decide to take Hiro to school where he is mistaken for a Japanese exchange student. Despite this temporary solution the portal being open means that more people and monsters from Hiro's world can travel to Earth, wreaking havoc on the small town. The boys decide in order to get things back to normal they must send Hiro back but not before their school dance is overrun with Battle Day Zero characters.
There's a new Hiro in town!
Fantasy becomes reality when the dark forces from a tactical card game are unleashed into our world. The good news… the most powerful card in the deck is on our side. The bad news… two 14 year old boys are running the show! Civilization might be teetering on the edge but rest easy as our heroes are on the case – provided they can fit it in between bin duty, an errant older sister and their eternal quest to impress girls.
Episodes
Season 1 (2015-present)
| № | Title | Original air date | Prod. Code |
| --- | --- | --- | --- |
| 1 | Good Old Bad Old Days | September 26, 2015 | 101 |
| 2 | Denmead for Denmead | October 3, 2015 | 102 |
| 3 | School Photo | October 10, 2015 | 103 |
| 4 | Reign of Error | October 17, 2015 | 104 |
| 5 | His Life as a Dog | October 24, 2015 | 105 |
| 6 | Prince Harming | October 31, 2015 | 106 |
| 7 | See Ya Later, Gladiator | November 7, 2015 | 107 |
| 8 | Amonsun Under Fire | November 14, 2015 | 108 |
| 9 | Sweet Potato | November 21, 2015 | 109 |
| 10 | I'll Take the Couch | November 28, 2015 | 110 |
| 11 | Mystic Skater | December 5, 2015 | 111 |
| 12 | Dad to the Bone | December 12, 2015 | 112 |
| 13 | Dead Cute | December 19, 2015 | 113 |
Gallery
Official art
Background art
Video
Promotional
Music
References