Change my world is a Japanese alternate main opening theme performed by FUNCTION6ch for the Exchange Student Zero TV series. It was first released on the official Cartoon Network Channel on September 26, 2015, exclusively in Japan.
Entity Deck
Battle Deck
Equipment
Event
Lyrics
`Ima' no kazu ke kako ga masu dake
Aragau koto mo yurusazu ni
Shizuka ni kizamu kurikaeshi rūpu
Shiraseru arāmu wa yamanai mama
Dareka no erabu michi nante
Tsugō wa genkai
Yume dake wa naku shinai waka
Hikari yori hayaku kakenukeru
Ikutsu mo no kage ga yoru o kakusu
Gū ka kanata kara yobu koe ga kikoeta
Koware-sōna kako sae
now, Change my world!
「今」の数け 過去が増すだけ
抗うことも許さずに
靜かに刻む 繰り返しループ
知らせるアラームは 止まないまま
誰かの選ぶ道なんて
都合は限界
夢だけは無くしない理ワ由カ
光より早く駆け抜ける
いくつもの影が夜を隠す
遇か彼方から 呼ぶ声が聞こえた
壊れそうな過去さえ
now, Change my world!
Trivia
Gallery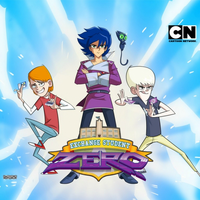 Click here to view the gallery.
Video