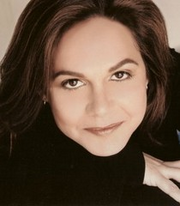 Candyce "Candi" Anne Rose Milo (born January 9, 1961) is an American voice actress and singer. She has voiced many different animated characters such as the voice of Jacobo on Disney's The Replacements, Coco, Madame Foster and Cheese on Foster's Home for Imaginary Friends, Irma Lair on Disney's W.I.T.C.H., lead character Maya Santos on Maya & Miguel, the punk rocker/goth protégé Ophelia Ramírez on The Life and Times of Juniper Lee, Zadavia in Loonatics Unleashed, and Nick Dean on The Adventures of Jimmy Neutron: Boy Genius as reprised from the movie and Nora Wakeman on My Life as a Teenage Robot. Candi is famous for voicing a majority of characters with a thick Latino accent.
A native of San Jose, California, she attended the all-girls Presentation High School. Later, she replaced Christine Cavanaugh as the voice of Dexter in Dexter's Laboratory in 2001. Milo says that when creating a unique voice the artist's drawings speak to her and that she prides herself on creating "a full life" for each character.
Credits
Ad blocker interference detected!
Wikia is a free-to-use site that makes money from advertising. We have a modified experience for viewers using ad blockers

Wikia is not accessible if you've made further modifications. Remove the custom ad blocker rule(s) and the page will load as expected.