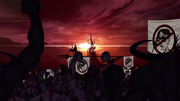 | | |
| --- | --- |
| | This article is a stub. You can help Exchange Student Zero Wiki by expanding it. |
The Blackyard Realm (or officially known as the Kingdom of Blackyard and simplified as Blackyard) is the second well-known realm of Battle Day Zero and a recurring setting for the series of Exchange Student Zero.
Government
Blackyard is a militarized kingdom controlled by its king as an absolute monarch, under the system of imperial autocracy.
Foreign relations
Blackyard thrives on war with a campaign of aggressive conquest and considers all non-allies with the kingdom as enemies. It is still at war against the Kingdom of Karuta, after numerous failed attempts and even with the peace offering of marriage between the two kingdoms' heirs.
Ad blocker interference detected!
Wikia is a free-to-use site that makes money from advertising. We have a modified experience for viewers using ad blockers

Wikia is not accessible if you've made further modifications. Remove the custom ad blocker rule(s) and the page will load as expected.